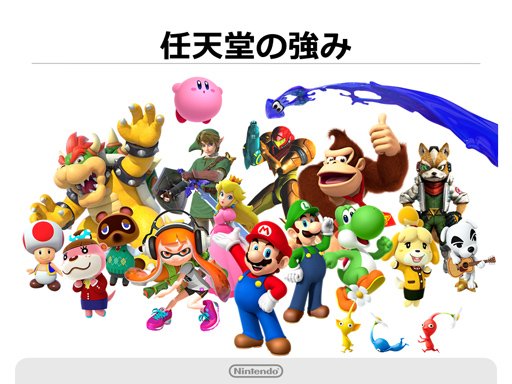 Nintendo had an investor's meeting tonight and announced some news for Wii U & 3DS, plus their new membership program and their upcoming mobile game.
Nintendo said that there are more unannounced games coming this year for both Wii U and 3DS. They are releasing more games to help promote both systems during the holiday season.
As for the upcoming new membership program, it will be called My Nintendo.
This is how My Nintendo is described (via Nintendo Everything):
" – Ease of creation/use of Nintendo Accounts being emphasized
– Register with NNID, Facebook, Twitter, Google, e-mail
– Purchase software downloads on the site, see purchases, play info, and game-related messages
– Nintendo will send notices and gifts
– Ex: Animal Crossing character called Isabel may send some information or a present to those who are playing with that game, Mario Kart players may receive a notice about add-on content and we may also send a message that enables the recipient to purchase some software at an attractive price point on his or her birthday
– Games purchased can be automatically downloaded to your system
– Receive points by using and playing games or purchasing them
– This applies to both console and mobile
– Use points on digital goods (maybe DLC), original goods, and coupons
– Use your account in conjunction with the theme park, as well as theaters and stores
– Make friends with those who enjoy playing games together by establishing "Friend" relationships
– Friend relationship can be established only between two people who know each other and have consented to the relationship
– This Friend relationship can be used for software for dedicated game systems and smart device applications
– Nintendo Accounts will provide cloud storage of character and save data
– Will provide membership service benefits in other real-life facilities such as theme parks, movie theaters and retail outlets
– My Nintendo will work as a bridge between dedicated game systems and smart devices
– My Nintendo out in March "
Finally, there is news about Nintendo's first mobile game. The game will be called Miitomo.  This is what it looks like: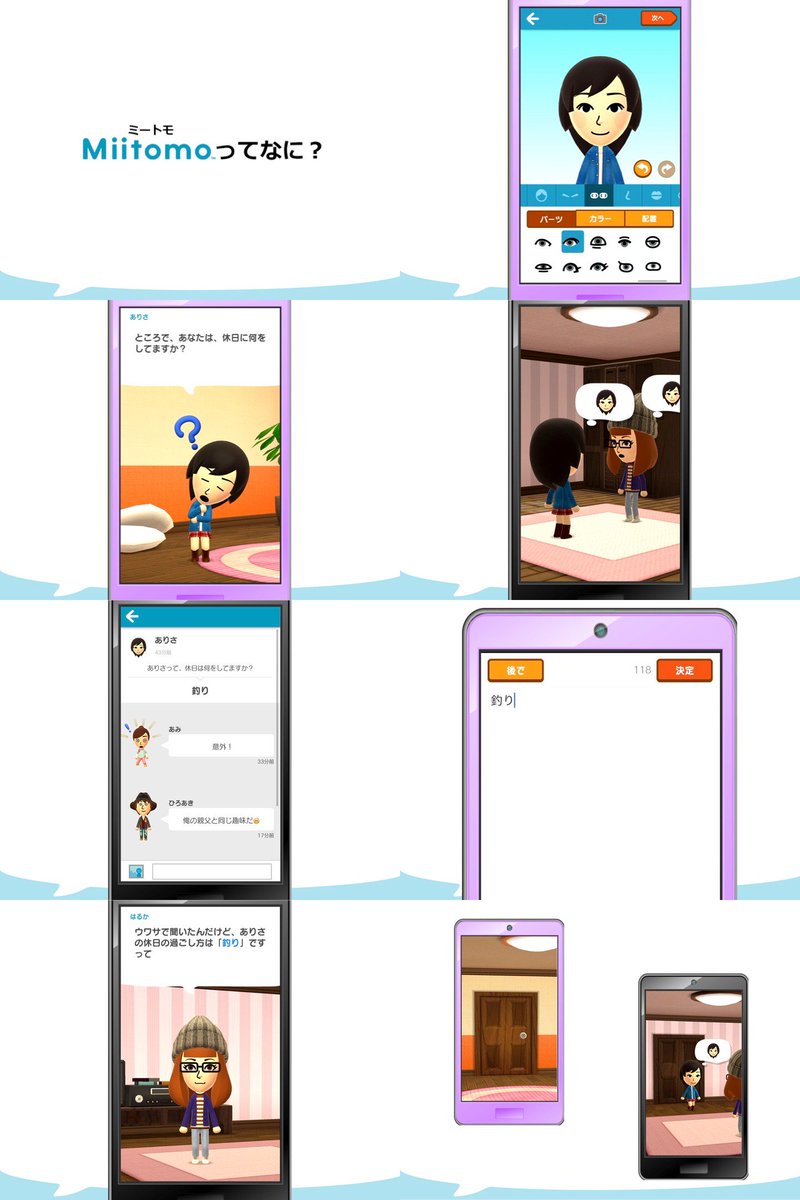 It will be an app that features Miis. Here is how the Wall Street Journal describes it (quote is via Nintendo Everything):
" The new smartphone game will be "Miitomo". It will be free to play, with attractive add-ons that people can pay for, Mr. Kimishima says. Others will be pay-to-download, he says.
Looks like Miis go ahead and communicate with other Miis without your knowledge. This will help people who are hesitant to talk about themselves to communicate with others, and reveal a side of your friends you never knew, Mr. Kimishima says.
In the new Miitomo game, users will design their own avatars, or "Miis," to communicate with other users. Executive Shinya Takahashi says that Nintendo will find ways to encourage people who are hesitant to talk to share things about themselves.
Senior Managing Director Shigeru Miyamoto says DeNA will help operate the smartphone games, while Nintendo will focus on ways to guide users to its hardware.
The five smartphone apps won't soon comprise half of sales, Mr. Kimishima says. Nintendo's goal is to use smart devices to increase the value of its IP, which will help sales of both software and hardware, he says.
On the reason for the delay of the smartphone app, Mr. Kimishima says, is the need for more lead time to fully promote and explain Miitomo. The company is busy promoting other titles in the pipeline right now, he says. It will start promoting Miitomo after the year-end holiday season. Says this will have little impact on earnings.
Curious about how the DeNA and Nintendo partnership is going. Senior Managing Director Shigeru Miyamoto says DeNA will focus on operation of the games. Which suggests game design is all Nintendo.
On second thought, not clear whether Miitomo should be called a game. It looks more like a communications app with Mii avatars that can be ported to games on Nintendo hardware. "
If you want to see pictures explaining the mobile game, in English, go to Go Nintendo here.
What do you think of all this news?
Sources: Nintendo Everything Twitter for the Nintendo Characters Image. Also Nintendo Everything articles here for unannounced Wii U/3DS games, here for My Nintendo service news, and here for mobile game news